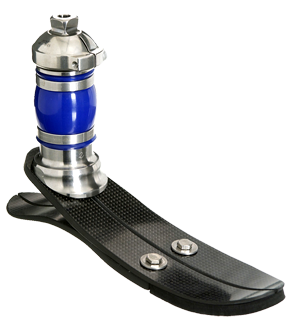 FEET
ENDOLITE
Espirit
Its tri-pod design allows users to experience superior ground compliance and response to all terrain. The Esprit foot relies on e-carbon springs for optimal response, durability, energy return and to stay in step with daily activities. All this in a lightweight, low profile package that is well suited to active walkers with varying cadence.
Elite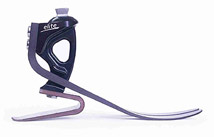 The Elite Foot gives the right response, in the right places, no matter what the terrain. It offers the perfect solution for achieving the healthiest sports/life balance.


Vertical Compliance
Multi-directional moves made easy with shock absorbing reflex action
e-carbon heel
Active, responsive shock absorption and forward progression
Twin-toe
Adapts and conforms to rough and smooth surfaces with optimised energy return
Tri-pod system
Effective propulsion and controlled stability on all terrain



FREEDOM INNOVATIONS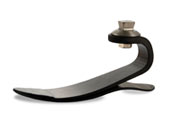 Defender Pediatric Foot
The Defender Pediatric foot is newly designed to ensure smooth rollover and exceptional ground compliance. The best way to effectively increase energy storage and strength is to increase the length of the carbon fiber keel - a prominent feature of the Defender which offers greater energy storage and return than any pediatric foot on the market.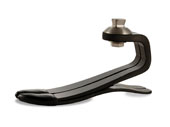 Highlander
The Highlander (FS 3000) is designed for active amputees with long residual limbs. It also can be used by transfemoral amputees who have a clearance issue secondary to their knee frame, and exoskeletal prosthesis.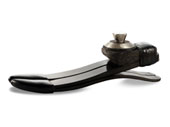 Pacifica
This low-profile foot is designed for situations demanding greater clearance. Featuring a very low finish height to maximize prosthetic configuration options, the Pacifica (FS 2000) is lightweight, durable, suited to all activity levels, and easy to fit and finish cosmetically.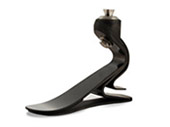 Renegade
The Renegade, the industry's most innovative shock absorbing prosthetic foot provides unparalleled performance in a lightweight design which is comfortable for everyday use.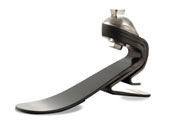 Renegade LP
Designed to accommodate clearances under 5 inches -- ranging from 4.4 to 5.2 inches -- the Renegade LP provides a complete shock system, which is ideal for active amputees with longer residual limbs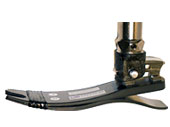 Runway
The Runway is the only user adjustable heel height foot designed for active K3 amputees. Based on the remarkable design features of the Freedom Series, the Runway provides comfort and performance while the patent-pending ankle design enables the amputee to change from barefoot to two-inch heels within seconds.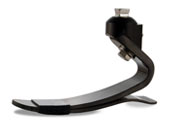 Senator™
Freedom Innovations announces the availability of its most affordable advanced prosthetic solution to date, the Senator™ Prosthetic Foot. The device is a lightweight, economical, energy-returning foot that shares composite engineering features with the company's advanced Freedom Series prosthetic foot products. It is truly sophisticated simplicity at its best. The product is designed to meet the needs of low to moderately active K3 amputees seeking a prosthetic foot that will allow them to participate in daily activities such as bicycling, golfing, hiking, or even jogging.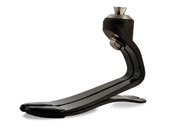 Sierra
The Sierra (FS 1000) - ideal for the new, lower-limb amputee - is unique for its "angle-top" design that creates a smoother gait without the energy loss typically associated with shock - absorbing and lower response systems. Compared to its competitors, the product also provides higher energy storage capacity for a given volume by utilizing a longer foot member.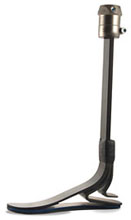 Silhouette
The Silhouette prosthetic foot is Freedom Innovations' latest offering of high performance, lightweight componentry, with the added benefits of multi-axial rotation and a slim profile facilitating ease of refined cosmetic finishing. The component is highly responsive, manufactured using specially engineered carbon graphite lay-ups that provide a dynamic posterior attached heel and compliant toe, enabling smooth roll-over and natural gait.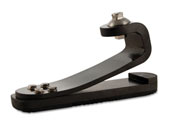 Slalom™ Ski Foot
Slalom™ provides the necessary flex and shock absorption to provide a fluid motion without the rigid shock normally experienced when skiing. With The SlalomT, amputees gain greater control of the skis, while enhancing their range of motion, ultimately resulting in greater endurance and therefore more time on the slopes.
OSSUR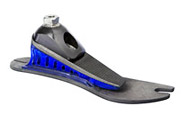 Flex-Foot® Axia™
Slalom™ provides the necessary flex and shock absorption to provide a fluid motion without the rigid shock normally experienced when skiing. With The SlalomT, amputees gain greater control of the skis, while enhancing their range of motion, ultimately resulting in greater endurance and therefore more time on the slopes.
Ceterus®
Ceterus mimics the body's normal twisting motion with a gradual resistance that never creates abrupt stops. The Torsion Control Cell reduces both rotary forces on the knee joint and shear forces on the residual limb. As the amputee pivots in any one direction, the Torsion Control Cell provides a steady, elastic movement with gradual resistance. Numerous activities can now be fully enjoyed with the rotational flexibility offered by Ceterus.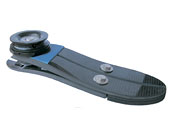 Flex-Symes™
The Flex-Symes foot design is based on the well known Flex-Foot concept - a carbon foot module connected to an actively deflecting carbon heel. The improved alignment adapter now offers angulation and adjustments in ML / AP planes. Flex-Symes is a prosthetic foot specifically for people with symes and pyrogoff amputations.
LP Ceterus™
Recommended for amputees with long residual limbs, this superb energy storing foot offers a build height 70-82mm lower than the standard Ceterus model. Featuring the same progressive rotation and adjustable vertical shock absorption, LP Ceterus includes a new foot module that provides greater flexibility and energy return than any previous low profile design.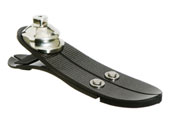 LP Vari-Flex®
LP Vari-Flex offers more energy return and greater flexibility than Allurion®, making it more comfortable to wear. Comparisons with Flex-Walk show the same excellent function, but with greater strength. It is also easier to cover cosmetically and is used with the premium foot covers.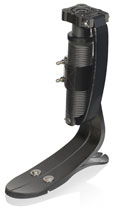 Re-Flex VSP®
It uses a carbon fiber compression spring, and telescoping tubes that provide up to an inch of vertical compression. This cushions the impact to amputees' residual limbs, allowing them to land on their prosthesis when descending stairs or curbs, for example, without experiencing pain or discomfort. It also stores and releases energy to allow the user to walk comfortably, efficiently and naturally.

Talux®
From heel strike to toe-off, no other prosthetic foot simulates a more fluid or graceful walking motion.Emulating many of the anatomical features of the human foot, the Talux has been specially designed to provide fluid, natural walking motion in a variety of terrains, for amputees of low to moderate activity.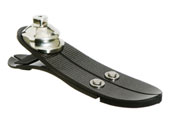 Vari-Flex®
Vari-Flex is light weight and easy to assemble which makes it a natural choice for both prosthetists and users. The slender profile creates a great choice for female users as well as male. Available with a standard 30mm graphite pylon and with a male pyramid, it provides easy attachment to endoskeletal pylon components.
OTTO BOCK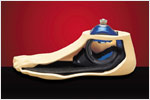 1C40 C-Walk
The 1C40 C-WALK was developed for a broad range of applications. This foot is recommended for patients with moderate to high functional levels with loading up to 100 kg /220 lbs. Transtibial amputees who are highly active and those with efficient knee joint constructions will especially appreciate the 1C40's benefits. The foot is ideal for walking on various types of terrain and at various speeds. It's also ideal for use in leisure sport activities.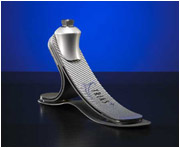 Trias
The Trias foot was modeled after the anatomical function of the human foot. It was engineered to ensure effortless, unified function. The design combines dual spring elements in the heel and forefoot. It is a base spring that ties these two elements together...resulting in an excellent heel response and easy rollover for superior gait characteristics. The Trias is ideal for patients who meet K3 activity criteria. This lightweight walking foot delivers a flowing response that complements the user's stride. The durable carbon fiber construction ensures solid dependability for patients who weigh up to 275 pounds.